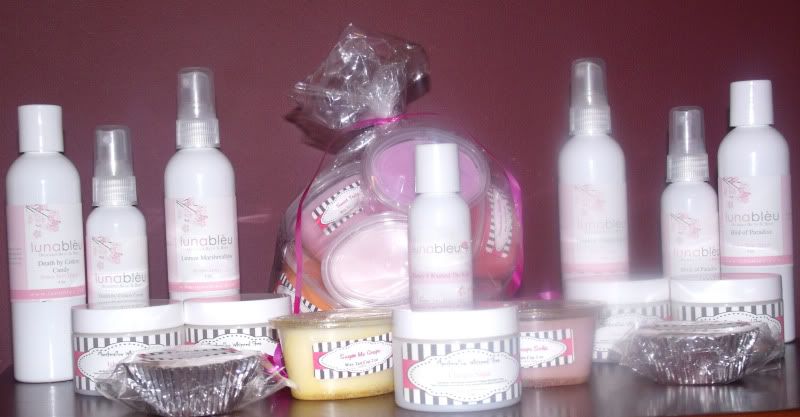 Oh Me, Oh My!!! I have been waiting for this package since January 4th. Yep. A very long time.
I was patient and waited nicely hoping, wishing, waiting and finally today it arrived. Receiving a package from Lunableu makes me happy. Sounds silly right? Well that's how I feel. I ordered new scents that I have never ever smelled before and I am in love, love, love. *swoon*
What did I order? Well for starters I ordered me 2 more Room Sprays. The other one I ordered worked extremely well so I decided to buy more. The scents are strong and mask, cover up and replace whatever scent you are trying to get rid of. The scents I got this time are:
Lemon Marshmallow
&
Tropical Orange Kisses
. I think Orange and Lemon are very good clean scents so that's why I primarily get those scents in Room Sprays which I use in the bathrooms. Lemon Marshmallow is described as Sweet Fluffy Lemon Marshmallows and Tropical Orange Kisses scent description says it's a wonderful sugary lemon with hints of white musk blended with Mandarin Orange Sherbet. Mmmm. Both nice fresh scents to leave lingering in the bathroom. Love both of those and will buy them again and again.
I also bought
Bird of Paradise
in the Shea Skin Glow and the Body Mist. It's a fruity blend of strawberries & pomegranates with a base of vanilla to smooth it out and let me tell you this stuff smells wonderful. It's a nice light scent. Not overpowering but good enough to get attention. I think this is gonna be a new favorite for me. I love pomegranate and strawberry and then the vanilla combined is pure heaven. I also got the same things in a scent called
Death by Cotton Candy
. I like it. I knew I would though when I ordered it. It's pink cotton candy, red candy apples and candied strawberries dipped in vanilla cream. Whew! I think I got a toothache just from the description. LOL
In the Marshmallow Whipped Shea I bought
Zino Davidoff Type
which I'm not too sure if I'm a fan of yet. I'll have to let my husband put it on and then see. For now that one is still up for debate. Lunableu says it's a best seller and highly recommends it so it's working for somebody.
Chergui Sugar
though, makes all the women go crazy. Not sure if I wanna give this to my man cause I might have to pull out the machete and cut a....well, never mind. Moving on....
Peony White Tea
is also another light scent. Very springy and feminine and the same goes for
Island Lullaby
. Last but not least is
Black Pepper
. I know that's a strange name for a bath & body product and who wants to walk around smelling like Pepper. Well honey, let me tell you something....this stuff right here....this stuff right here....It's loverly. It doesn't really smell like Pepper but it has a hint of Pepper to it. I can't really make out what the other tones are and I can't find a scent description for it but I like it. I really do. I say give it a try and if you don't like it, you can give it to me. *ting*
I got wax & cupcake tarts too:
Coconut Buttercream
: like
Sugar & Spice
: not so much
Strawberry Blondie
: love (will order in a bath & body product)
Snuggle Baby
: love, love, love (I want this in a room spray and bath & body)
Whispering Mist Type
: love it
Sweet Tarts:
like
Orange Sherbert:
it's ok
The Raven
: love (must order in shea skin glow)
Green Tea
: not really
Magnolia Acai:
just ok
For the Love of Mango
: niiiice
Grape & Blueberry Bubblegum
: not so much
Fizzy Grape Soda and Sugar me Grape
both smell good but they spilled somehow. :-(
I got a green tea hand lotion of
Honey I Washed the Kids
, my #1 favorite Lunableu scent.
*and a coupon for a free 2 oz Shea Skin Glow*